Sport 300 Front Lip
The cars PO had damaged the original front lip on the car, it was a point to reduce the cost of the car when I bought it and therefore know it would need seeing to in time. Well the time came as the plastic lip kept coming apart and basically looking less than ideal. On finding out that the two part lip kit would cost over £120 per side and prone to breaking if you sneezed at it I searched for an alternative.


The front lip from the Sport 300 is a rubber lip that fits to the body work. At £65 and made of durable rubber this seemed a suitable alternative. All that was required was a few holes drilled through the rubber to allow bolts to go through existing holes in the front bodywork and cutting off the excess. The picture to the right doesn't wonderfully show it, but the front is now a little lower than before and looks a lot better than the broken plastic pieces. I have gained a few scrapes on the rubber from some driveways that have a sharp angle but generally I'm happier to replace apiece of rubber if it gets too unsightly rather than the expensive plastic parts that quickly looked tacky.
(Update 1th Aug 2003) The spoiler was looking a little shark nosed from the side. I think either the S300 front valance is angled differently to the S4s or the rubber lip is cut to fit.
Decided to get the spirit level out, a sharp knife and a cardboard template.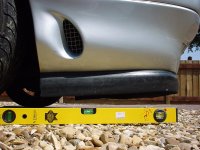 First to survey the ground. One good bit about gravel drives is being able to make a level area by moving gravel around. So after shifting car around to ensure that the car was level within reason I eyed up the offending rubber.
First image shows the spirit level aligned with the car so you can see the problem.Made a cardboard template and marked the cut line so that I could duplicate on opposite side.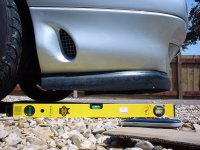 Result isn't too bad. A little straighter than others would do but I'm just not that confident that I wouldn't muck the whole piece of rubber up.
I personally think the lines looks better now when parked up. Then again I am my own worst critic of the car.

Possibly I will try and align a bit better with the front level if I feel confident in the future.